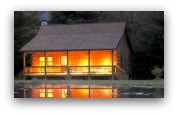 If you are going to Disneyland for your vacation it makes sense to book a hotel. If you are going to experience the rugged terrain of the Wild West then what better way to enjoy the great outdoors than by staying in a cabin. In this post I will provide the pro's and con's to help you when researching Yellowstone National Park cabin rentals. I will also provide a personal recommendation of a cabin that I know you will enjoy.

There are many advantages to renting a cabin vs. staying in a hotel. For example, if you are traveling with children then you know how expensive it can be just keeping everyone fed. If you're like me the five dollar hotdog by the end of your trip is really hard to swallow, no pun intended.
By staying in a cabin you will have access to a full service kitchen that will allow you to prepare some or all of your own meals. If you are really looking to save money eat breakfast and dinner in the cabin and prepare sack lunches for when you are exploring Yellowstone during the day.
The experience of sleeping in a cabin, playing games, and telling ghost stories just can't be replicated in a hotel room. You will create memories that your family will never forget. You might even get lucky and see wild life grazing in the early morning right from the comfort of the cabin.
So what is the downside when considering Yellowstone National Park cabin rentals? There are not many that I can think of, it is important to share them with you however. First, if you like room service there is obviously not anyone around to bring you breakfast in bed. Second, If you don't like making your bed on vacation then maybe renting a cabin is not right for you. Other than that it is very hard to find anything negative to say.
I recommend that you rent a cabin in Island Park Idaho.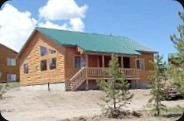 Island Park is only 15 minutes from the west gate. It is a beautiful area very similar to that of Yellowstone. Most cabins sleep between 8 and 20 people and will range anywhere from $200 to $400 a night. The number of people that the cabin sleeps generally sets the price. If you are traveling with friends and get a cabin for $200 a night that sleeps 10 people you are getting a great value. It will be hard to find any lodging accommodations in the area that will compete with the shared price of the above example.
Might I make a personal recommendation? If you are traveling will a smaller group the cabin that I recommend is called "The Shoshone Retreat". I have included a link to the cabin as well as the owners direct number. For reservations call 801-866-2065.

The Shoshone Retreat
The cabin has three bedrooms and two full bathrooms. It has two queen beds, two twin beds and one queen sofa sleeper. The cabin is heated with electric heat as its main heat source. The Pine Tree Lodge does have a gas fireplace in the main sitting area. This is a wonderful area to relax and talk with family and friends. It is a perfectly decorated fully functional cabin with a refrigerator, stove, oven, microwave, dishwasher, coffee pot washer and dryer. Other amenities included 42 inch plasma TV-DVD player, gas BBQ grill and all of your kitchen and bedding needs.
The cabin is only 5 years old and is in excellent condition. It has an open floor plan, mud room, and covered porch on a quiet dead end street. The cabin is close to close to ATV and snowmobile trail system. If you like to fish you are only minutes away from world famous fishing at Henry's Lake and the Henry's fork river.
I hope that this post has been helpful, take a look around the site as we have included helpful information to assist you in planning your vacation. For example, you will see information about best things to do in Yellowstone as well as a review of top Yellowstone attractions. Have fun on your vacation and if you liked the site please let us know.