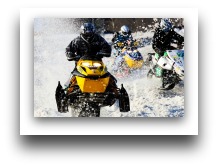 Riding in Yellowstone is and continues to be a hotly debated topic. Fortunately, for the snowmobiling enthusiast you don't have to be in the park to enjoy first class snowmobiling. Riding snowmobiles in the Yellowstone surrounding area is nothing short of amazing.If you have not experienced the rush of riding snowmobiles in the area you are in for a real adventure. For your convenience I have provided several links to companies that offer Island Park snowmobile rentals, you will find the links at the end of this post.

Island Park Idaho is often referred to as the snowmobile capital of the world. With over 600 miles of groomed snowmobile trails it is truly a winter playground that is unsurpassed. It is only 15 minutes from Yellowstone so the terrain is very similar to the park. The benefit for you is that you can ride here without a guide. You are free to explore the area as you choose.
Whether you are an experienced snowmobile rider or have never been on a snowmobile you are sure to have an experience of a lifetime. The groomed trails are good for the new rider to get familiar with the snowmobile. Take note that if you are a new rider use caution when going off of the groomed trails. It is very easy to get your machine stuck in the snow and it's not fun trying to dig yourself out.
For the more experience rider there is not much to say other than have fun and make sure you have plenty of gas. One of my favorite rides takes you from Island Park into Mesa Falls. I recommend that you pack a lunch and eat here at Mesa Falls. The falls are magnificent and not many people have the fortune of seeing them in the winter.
When you rent your snowmobile make sure you talk with the shop employees and find out what roads are off limits. You want to make sure you stay off any of the county roads. I think that the citation quota must be going up as the local officials are not being shy about giving out tickets.
I have included several links to companies offering west Yellowstone snowmobile rentals. I hope that this post has been helpful. If you are looking for a place to stay while snowmobiling in the area I recommend that you rent a private cabin. There is a post on the site discussing the benefits of Yellowstone National Park cabin rentals vs. staying in a hotel. My personal recommendation is "The Shoshone Retreat". Have fun and enjoy your adventure to this winter wonderland!
Snowmobile Rental Companies
Mountain Mayhem
Yellowstone Adventures
Yellowstone Arctic Yamaha
Yellowstone Vacations