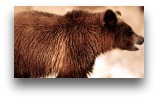 In talking with many people who have visited Yellowstone National Park, the pinnacle of their vacation experience usually centers on a bear sighting. I can certainly appreciate this as they are magnificent creatures. Within the park there are black bears as well as the great grizzly bears that if you are lucky, you will have a chance to see. Word too the wise don't get to close as they might seem tame but they are very unpredictable. We have all heard the stories about how the bears in Yellowstone will come right up to your car. This certainly was the case years ago. Things are different now and it is very unlikely that a bear is going to come and look at you through your car windows. This is not to say that there is not the possibility of this to occur. In fact I am sure that it happens every year in the park. I am simply trying to set the expectation for you when on vacation in Yellowstone. Just remember that bear sightings in the park are rare as the bears are not usually in the open for tourists to see.
Keep the following suggestions in mind while driving through the park in search of a bear sighting. This information will teach you how to see a bear in Yellowstone. First, bears are more active when it is cool. So the best time to see bears are during the cooler part of the day this would be in the morning or at dusk. When it gets hot the bears look for shade and often find it in areas where park tourists cannot see them. Most of my bear sightings have been in the Mammoth section of the park. For those of you entering the park from the west entrance follow the signs leading you to Old Faithful. You will soon come to Madison Junction.
If you turn right, you will go to Old Faithful if you turn left, then you are on your way to Mammoth in search of bears. If you get to Yellowstone around one or two in the afternoon this is a perfect time for bear sightings. You really stand a chance of seeing them driving to Mammoth as well as driving back. The only way to guarantee that you see a bear is by visiting the grizzly discovery center in West Yellowstone or Bear World in Rexburg Idaho.
A lot of people know me as the "Yellowstone Guru" and people are constantly asking me for tips about how improve their chances of seeing a bear when they make a trip to Yellowstone. I'm always eager to help whenever I can. I'll talk to anyone about Yellowstone anytime! It's one of my favorite places to spend my free time and one of my favorite things to talk about.
I made this video about increasing your chances of seeing a bear in Yellowstone and I think you'll enjoy it. Have a look. Oh, by the way, if you like my website, please help me spread the word about it by clicking on the "Like" button that is located above every one of my articles! I sure would appreciate it and if I can do anything to help you plan your Yellowstone vacation, just send me an email. Our goal is to provide you the reader information that will help you plan your vacation. For example, many tourist have wondered where is Yellowstone National Park on a map, here at yourtation.com we have many post that address general and frequently asked questions. Thanks for stopping by. I hope you enjoy the video!

Insider Tip:

Upon entering the park you will drive up to a designated pay area. Here you will pay the ranger to gain access to the park. Over the years we have learned to ask the ranger at this point where the bear sightings are occurring. For the most part the rangers are very friendly and are more than willing to tell you where people are seeing bears. Good luck and be safe!