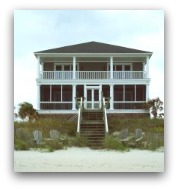 In this post I will be discussing how renting vacation homes is a great idea, that is if you are looking to save money on accommodations. There are many advantages to renting a private vacation home that far outweigh the overpriced room service offered by your favorite hotel. I first learned about private homeowners renting their homes to tourists when I was looking to purchase property in the Yellowstone area.

My wife and I were looking at a beautiful cabin and after some consideration we both came to the conclusion that we could not afford the cabin. When we explained to the realtor our reasons for not purchasing the property, the agent suggested that we buy the property and rent it out during the summer as a way to help with the expense. To make a long story short we have been renting our cabin now for several years. We have actually had tourists from all over the world stay at our rental cabin.
I now want to discuss the benefits of renting a house on your vacation. First, in many instances it will be less expensive. For example, I rent my cabin for $200 dollars a night. It has three bedrooms and two baths. Renters have access to a fully functioning kitchen and laundry room. The cabin is decorated nice and is very clean. With two families sharing the costs it becomes a killer bargain. If you wanted to rent a hotel in West Yellowstone for $100 dollars a night you would find yourself in a rundown Motel Six or Super Eight hotel.
Many travelers who stay at our cabin choose to eat breakfast and dinner at the cabin saving their families hundreds of dollars. If you really want to save money you could even prepare sack lunches to take with you when driving through Yellowstone. We all know that paying for food at a national park or popular tourist's destinations is very expensive. Another benefit for you to ponder is with access to a laundry room at the cabin travelers can pack less and save money on expensive airline bag fees.
In addition to saving money owner vacation properties provide other benefits. Imagine renting a beach house in Maui Hawaii or sunny California. Waking up to the sounds of crashing waves far surpass staying in a hotel where you could not sleep because the person in the room next to you decided to watch TV all night. The benefit of travelers staying in our cabin is they are surrounded by wilderness. It is not uncommon to see an elk, deer, and on rare occasions even a black bear near the property. In the winter season the experience of watching the snowfall from the living room windows is amazing, far outweighing the benefit of a free donut and hot cocoa provided by a hotel.
Many of you might now be asking how to find vacation properties for rent. You might be surprised at just how easy it is to find a home that meets your needs. There are several vacation home websites that give you access to properties for rent all over the world. The site that I have used the most is VRBO or "Vacation Rentals by Owner". Once on the site you simply enter information pertaining to the area that you want to visit. You will instantly have access to many homes for you to consider. Now it is up to you to do your homework and find a home at a good price and looks like it is well maintained. Just so you know most owners will require a deposit that will be refunded after your stay. Deposits are usually between $300 and $500 dollars. The deposit is to protect the homeowner from any damage done to the property. Also, you will be required to pay a cleaning fee that is generally less than 100 dollars for your entire stay. For example, we charge 85 dollars for people who stay at our property. You should not be required to pay any fees outside of these discussed.
In summary in my opinion family vacation home rentals are great. If fact my wife and I are getting ready to go to Hawaii and have book a beautiful home with some really cool amenities. I am so excited and can't wait to stay there. I hope this post has been helpful if you would like to learn more about saving money on travel, here at YourTation.com we have several posts dedicated to the topic. Thanks for the visit and happy traveling.