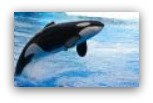 If you're thinking about the best things to do on vacation in San Diego, you've got plenty to think about. San Diego vacation ideas, especially for a family vacation, are so plentiful it would be hard to cover them all in a book, let alone an article.
There are some standouts though: rides on the beach at Belmont Park, watching marine animals get oo'd an ah'd at Sea World, and the famous Children's Museum, where the kids will hopefully tire before you do.

Belmont Park is an amusement park that the kids will like, on a beach that the parents will love. It's funky mix of modern, hip attractions and the traditional amusement park classics makes it ideal for a family vacation to San Diego. There's even a hybrid of the two, Control Freak, a rollercoaster that lets you drive your own car. Miniature golf, bumper cars, and even a pirate ride are all here. And pack that towel for after the rides, the beach awaits.
The Sea World in San Diego was the first one opened, in 1964. Ideal for a full day's outing, the park has many family-friendly attractions. The famous killer whale, Shamu, is here. Yes, he's adorable. "Sea Lions Live" is a comic show: don't call them seals. If you go in the summer, some of the popular attractions are altered and even enhanced. The Shamu show, for example, shifts to the evening and features killer whales and rock music and makes it one of the best things to do on vacation in San Diego.
The New Children's Museum in the heart of the city, downtown San Diego, is a place to let the kids run wild and easily makes the list of best San Diego vacation ideas. The entire building is filled with activities for kids, with interactive art, composing music, making 3-D animation, and even building a birdhouse. The workshops, and they are WORKshops, are especially designed to keep the kids busy. These workshops change on a regular cycle, ensuring that no two seasons at the museum are alike.
And there you have it for the sure bets. Belmont Park will please all, Sea World must be seen before you leave, and the Children's Museum will give the day to the kids. Though you can, and will, go to many other places in San Diego, these starter trips are your best bet to starting off your journey on the right foot, no matter the shoe size.