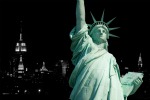 If you have never been to New York City then you are in for an amazing adventure. Trying to describe the city via written word is incredibly difficult. By this I mean words alone can not do the city justice. The old addadge "You have to see it to believe it" certainly pertains to New York . I remember seeing the city for the first time, it was amazing to say the least.
In this article we will discuss the absolute must see New York City tourist attractions. Some of the most visited attractions include the Empire State Building, the Statue of Liberty, Times Square, the United Nations Building, Madame Tussaud's Wax Museum, Intrepid Air and Sea Museum, Central Park, Rockefeller Center, Metropolitan Museum of Art, and Madison Square Garden.

The Empire State Building is a New York City Landmark and a National History Landmark, which soars more than a quarter of a mile above the city of Manhattan. The Observatory is located on the 86th floor, and it offers a panoramic view from a glass enclosed pavilion. The Observatory was first opened to the public in 1931, and it has been bustled with tourist attraction since then.
Another one of the most visited attractions is the Statue of Liberty. The Statue of Liberty was given as a gift by France as a sign of international friends. It is regarded as one of the most universal symbols of democracy and political freedom. The Statue of Liberty is located on Liberty Island, which is accessible by ferries only. A round trip ticket encompasses a ferry to both Liberty and Ellis Islands.
Times Square is a legendary tourist attraction that is displayed as the heart of Broadway. Times Square is located on 42nd street, and it has recently celebrated its 100-year anniversary. Times Square is filled with neon signs, giant screens, screaming ads, and (of course) tourists. The main attractions in Time Square include ABC studios and Toysrus. However, there is always something new going on at different times of the year.
At the Times Square Visitor Center, there is citywide information from multilingual tourist counselors who will help guide tourists to popular attractions, as well as promote Broadway shows. Times Square is truly one of the must see New York City tourist attractions.
The United Nations Headquarters building is located in New York City and it is by far one of the most visited city attractions. It offers guided tours that are conducted seven days a week. These tours are done in English and they last for about an hour. The United Nations is a symbol of international peace, and it can be a truly unique experience for some.
Madame Tussaud's New York is a very popular attractions because there are nearly 200 wax figures, as well as many more that are being added. For some tourists, this may be their first time encountering the Madame Tussaud's branch, so it can be a very entertaining experience. These wax figures are extremely life-like, and they include popular celebrities such as Brad Pitt, Michael Jackson, Madonna, Elvis Presley, and Marilyn Monroe. Madame Tussaud's is open every day of the year, and it is usually open until 10 p.m.
A popular location for tourists is Central Park. Central Park ranks as highly as Times Square as one of the most visited tourist attractions in New York City. Central Park encompasses from 59th street to 100th street, as well as 5th Avenue to 8th Avenue. It is home to playgrounds, a zoo, skating rinks, and more seasonal events. A popular way to tour Central Park is through a horse-drawn carriage ride. These carriage ride tours usually last from 20 minutes to an hour.
The Metropolitan Museum is one of the most visited tourist attractions. It offers different categories of art from many different periods of time throughout the world. It is definitely a day affair as there are nearly two million pieces of art from a large amount of countries (Africa, Europe, Egypt, Greece, Rome, Europe, and many more). It is definitely an attraction to check out during your trip to New York City.
Lastly, is Madison Square Garden it is considered the World's Most Famous Arena and for good reason. Madison Square Garden has hosted a large variety of events. Madison Square Garden offers All Access Tours, which may allow you to go inside the dressing rooms, see players practicing, performers in rehearsal, as well as crews staging events.
Whatever attactions you decide to visit I am sure you will not be disapointed. I love the city I have been there many times and eveytime I go it's like going there for the first time all over again.