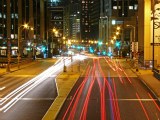 Among the many things to do on vacation in Chicago, there are three in particular that stand out. Chicago continues to make its mark on Hollywood as a birthplace for comedians. It's also a city that makes room in its busy grid for an amusement park. And finally, the city itself is a testament to what becomes of mass devastation when human imagination rises to its challenge. Here are some ideas for your vacation to Chicago.
iO That's not a typo. Formerly known as Improv Olympics, this Chicago theater landmark had to change its name when the real Olympics made it cease and desist. It was a sign that the tiny theater had arrived. Having played second fiddle to Second City, the old Chicago training ground for comedians, iO now commands it's own alumni along with it's own fans. The cutting edge of improvisation and its future stars perform seven nights a week.

Navy Pier Jutting 3,300 feet into one of the Great Lakes, the pier is an amusement park, mall, museum, entertainment complex, convention center, and even an actual pier. The Pier had many uses over the century, including serving as a military landing strip and a jail. Today any forlorn feeling is reserved solely for the winter when the Pier is completely shut down. For the other three seasons of the year, the Navy Pier is essentially an outdoor park, Ferris wheel included, square in the center of Chicago. The day is for the kids; the night is for romantics.
Architecture After the Great Fire of 1871, Chicago had a chance that few cities get: a do-over. And what a do-over. The greatest architects from the United States and around the world converged on the Second City for its second chance. Today Chicago boasts one of the greatest skylines in the world. Boats take on daily architecture tours on the Chicago River, traversing downtown Chicago and weaving their way through the soaring monuments of the "Chicago School"—all courtesy of Mrs. O'Leary's cow.
And there you have it for some quick Chicago vacation tips. The City of Big Shoulders continues to flex its show biz muscle with great improvisational comedy, lead by iO. The Navy Pier allows you to make that trip for spacious, runaround fun without so much as leaving the city. And the daily boat tours of the city's great architecture will rescue you from the sidewalk and make your eyes rise with wonder. Of course there's much, much more to the Windy City, but this is a start that won't let you down.