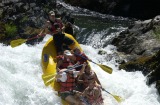 Though the area can be popular in the winter, the Jackson Hole summer season is no slouch. The local music festival brings out musical luminaries from around the country.
Some of the most popular summer activities are ready and waiting in the national park. And a wildlife refuge welcomes both wildlife and city-tired visitors. There's something here for all tourist visiting Jackson Hole in the summer that will not disappoint.

The Grand Teton Music Festival is simply not to be missed. Started in 1962 under a tent as part of a larger fine arts festival, the GT Music Festival quickly shed the canvas and soared off on its own. Today musicians from the greatest orchestras around the country, along with top music teachers from the major conservatories, join every summer into a resident orchestra. Concert performances are every week, with symphonies and chamber music both on the repertoire.
In northern Jackson Hole waits the Grand Teton National Park. Named for its highest peak, the park was established in 1929. Much of the park has been untouched by human civilization over thousands of years to this day, making for an almost pure ecosystem. Though the park is open year-round, the park is a destination for the summer activities of hiking, climbing, and fly-fishing.
I can't forget about my favorite activite which is white water river rafting. This is a real rush, if you are a thrill seeker you will love this activity. Back when I was in college we would make a trip to Jackson Hole every summer and I could not wait to get in the water. A word to the wise be safe as it can be dangerous!
Camping is another fun activity, keep in mind however that you'll need a permit for camping, but you'll appreciate that this limits the amount of people and summer crowds when you're communing with nature. The park is vast enough to support several visitor centers.
You can visit the National Elk Refuge and see unspoiled nature in all of its glory. Overnight camping is not allowed, making the refuge a true oasis for wildlife. You can drive through the best spots to see the native flora and fauna. Both Miller Butte and Refuge Road are major areas for spotting bighorn sheep. Flat Creek harbors rare fowl and their calls throughout the year, and you'll probably bump into many a birdwatcher. Turnouts are paved along some roads to provide a safe place to watch and photograph the life and vistas.
These are just some of what to do in Jackson Hole in the summer, though it fills an entire season. The GT Music Festival greets you with high-caliber culture, the National Park serves as an active playground for everyone, and the more serene Elk Refuge brings you nature up close. Jackson Hole summer vacations can bring you the sounds, the sweat, and the sights.