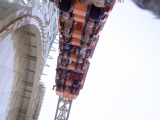 If you're wondering about the best ways to avoid lines at Disneyland, there are three that are surefire and literally time-tested. Disney's has been using the Fastpass since 1999 to get visitors onto rides quickly at no extra cost. The official Disney app for the iPhone will also do the job. Finally, one of the best ways to bypass the lines is with good, old-fashioned timing.
Fastpass is by far the best thing to come along and combat long lines.The idea is simple: you pick up a Fastpass ticket at the desired ride showing the time range that you can later get on the priority line for that ride.

Instead of waiting, you can now go about your day and enjoy the rest of the park. All is not perfect, however. The Fastpass is given out in limited quantities per day and on certain extremely popular rides passes can run out early in the day, so it can still be important to arrive early depending on the ride.
Mobile Magic, the official Disney app, is also helpful in handling the lines. When you're in the theme park, the app will dynamically display all show times and waiting times. All of the information is in real-time, and you can use the app to set alarms for shows, events, and, yes, rides.
You can filter restaurants by price and rides by type. One favorite is the reality map, which allows you to point your camera at an attraction and its information pops up. The official Disney app runs on iPad and iPod touch running iOS 3 or later only, and the iPhone.
Finally, the oldest way to avoid lines in Disneyland is still the best: visit the park on the off-peak. Off-seasons are January through mid-February, Easter through Memorial Day, and Labor Day through September. Throughout the year weekdays are better, with Wednesday and Thursday ideal. On weekends, Sunday is better than Saturday.
If you have the flexibility and plan your trip right, you can be facing a park that is substantially less crowded. That means less queuing for everything, including the rides.
These techniques don't have to be used exclusively. In fact, the best strategy would use all three to make your wait for the most popular rides almost non-existent. Use the Fastpass early in the day to hold your place in line and keep an eye on those rides with Mobile Magic updates, all while touring the park on an off-season weekday. Now get out there and have all of the fun, with none of the wait.