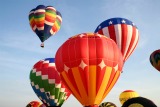 The hot-air balloon festival in Albuquerque began in 1972 when a local radio station celebrated its 50th anniversary. A local hot-air balloon service had been asked to take part in the station's festivities.
The first gathering included 19 balloons from the western part of the United States, all coming to compete in a single race. By the following year the race had become several championship games, and the Albuquerque Balloon Fiesta had become an international destination.
Today the major events of the hot air balloon rides in Albuquerque include:

Dawn Patrol After balloonists found ways to light themselves for night travel, balloons began taking off before dawn and landing only after there was enough light to see landing spots. The rest of the balloonists on land use the Dawn Patrol to gauge wind speeds and altitude for the coming day's flights.
Mass Ascensions Under the coordination and watchful eyes of dozens of launch directors, called "zebras" for their referee uniforms, all of the hot-air balloons take to the air, all at once. This happens in two separate waves, and twice what was once open sky brims with the colors and shapes of hundreds of balloons.
Special Shape Rodeo In the high-altitude parade that is the Fiesta, these are the special floats. All sorts of non-traditional balloons show off, from frogs to soda cans, to houses and cartoon characters. Hot-air balloons come in all manner of shapes, sizes, and whimsy. This is easily the most popular part of the Fiesta.
Balloon Glows Many of the balloons wait for night and stay on the ground, lighting the night all at the same time with their propane burners. The special shapes balloons are once again the stars in this "glowdeo".
Competitions In the "America's Challenge Gas Balloon Race", the "race" goes not to the balloon that travels swiftest, but farthest. Some Challenge champions have ended up in Canada and even on the eastern coast of the United States. Another event is the "Fiesta Challenge" in which balloonists' landing accuracy is tested as pilots try to drop a marker closest to a given landed target.
Every October balloonists and spectators alike from all over the world embark on a pilgrimage to Albuquerque, not only to witness and perform individual feats of skill, but also to relish and marvel at what hundreds of people with a singular love can achieve together.