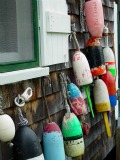 If you've considered Kennebunkport Maine vacation ideas, there are some highlights. The small town, tucked away near the Maine border with Massachusetts, has a long history as a summer retreat. The natural beauty of Kennebunkport has been protected with establishment of a national wildlife refuge, and, of course, it's most famously been the headquarters of a United States president and his family.
Kennebunkport, Maine began in 1653 as "Cape Porpus", then part of the colony of Massachusetts. Conflicts with the indigenous populations left it abandoned until the early 1700s. By the early 1800s the town was renamed Kennebunkport, after the economically important river of Kennebunk. It has since become and remained an important summer resort, offering shopping, pristine beaches along miles coastline, and unparalleled views of its fishing harbor.

The 5,400-acre Rachel Carson National Wildlife Refuge takes up a major part of Kennebunkport. Established in 1966, it is made up of protected saltwater marshland and is a major destination. The refuge is especially famous for its migratory birds. Birdwatchers from around the world come to catch glimpses of Sharp tailed Sparrows, Northern Loons, and other rare waterfowl.
The visitor center offers maps of designated hiking areas, with interns running special programs in the summer. While camping is prohibited, hunting and fishing is plentiful and allowed in season with a permit.
It was, of course, George H.W. Bush and his presidency that catapulted Kennebunkport from a sleepy village onto the international stage. Built by the 41st president's maternal grandfather, George Herbert Walker, the compound is on the eponymous Walker's Point, previously known as Point Vesuvius.
Even during Bush Elder's stint as a Texas legislator, Kennebunkport has been the Bush family home. The compound has hosted leaders and dignitaries from around the world during both Bush presidencies, and continues to be a tourist attraction, especially in the summer.
Now that you know some of the highlights of things to do in Kennebunkport, you're better prepared for some summer trip decisions. The town has a rich history that has included its prominence as a quiet summer retreat.
The national wildlife refuge is a destination for its hunting and fishing, as well as for its varied flora and fauna. And the town continues to be the focus of the Bush family. A trip to Kennebunkport can titillate the history buff while nourishing that much-welcomed summer's rest.