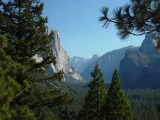 Most people have an immediate image of Yosemite National Park top attractions. They're not unjustified. Facts on Yosemite National Park are plentiful everywhere, and all only inspire further digging and, ultimately, a visit to what are perhaps the most breathtaking vistas in the contiguous United States. If you are planning a trip to Yosemite then you are in for a real treat.
Yosemite Valley The star of the Yosemite National Park, Yosemite Valley is the only part of the park that is open year-round. The Valley is famous around the world for it rock formations, high waterfalls, cliffs, and even meadows. Hiking is possible year-round, but most pleasant in the late spring and summer.

Glacier Point 30 miles from Yosemite Valley, the Point is the place for the most majestic view of the valley below. For views of cliffs, rising peaks, and descending waterfalls, it is unmatched anywhere in the park. Year-round it is a photographer's dream.
Wawona You can find maps, guides, and souvenirs at the Pioneer Yosemite History Center, a small village of historic buildings here. There's also the Wawona Hotel, a resting place for travelers that's been there since the late nineteenth century. All of the buildings are accessible by auto year-round.
Mariposa Grove About 36 miles south of Yosemite Valley, "Butterfly Grove" is home to the largest stand of sequoias in the entire park. Throughout the winter, from November through April, it's closed to auto traffic because of the snow. Hikers and skiers, however, make it their paradise.
Crane Flat A meadow and forest located some 16 miles from Yosemite Valley. Mariposa Grove and it sequoia trees are accessible nearby on foot, though the Flat is reachable by auto around the year.
Badger Pass The Pass is the place for skiing in Yosemite. Downhill skiing and cross-country skiing are both popular activities here from December through March.
Tioga Road (Tuolumne Meadows) The road is an almost 40-mile stretch of untouched meadows, forests, and lakes. One meadow is Tuolumne, home to high peaks and craggy domes accessible only to cross-country skiers from November through May.
Hetch Hetchy This is Yosemite Valley's little brother, but don't let that fool you. It's scenery and vistas are no less spectacular, and its big advantage is that its hiking trails are less trodden. The road to the valley is open during the day, all year, but it's subject to snow conditions. One bit of trivia: the valley reservoir happens to supply the suburbs and city of San Francisco.
Summers in Yosemite call hikers from around the world, while winters invite skiers to spread their wings—all the seasons of the year in Yosemite beckon the photographers.