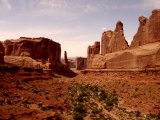 If you've wondering about things to do in Moab, Utah, carve out some time—a lot of time. This area is breathtaking and will provide for a unique vacation experience. It is truly a thrill seekers paradise. Located in Grand County near the eastern state line, the area is actually a collection of parks, and Moab information is really the story of two parks:
Arches National Park is known for its eponymous natural sandstone arches, over 2000 throughout the park, the most famous of which is the Delicate Arch. Climbing the arches is strictly forbidden, especially "slacklining": not-so-tight rope walking between cliffs. All other climbing is regulated. Driving, camping, biking, hiking, and guided commercial tours are all part of the Arches landscape.

Canyonlands National Park is a collection of buttes, mesas, and canyons. It's home to two large river canyons, Colorado River and Green River that attract kayakers and rafters from around the world. The park itself is a haven for hikers, mountain bikers, backpackers, and even four-wheel buggy enthusiasts who enjoy the especially rugged terrain. The international destination for whitewater rafting is the Big Drop Rapids, deep in the Cataract Canyon.
In addition to the parks' activities above, many of the other Moab, Utah activities could fill a lifetime of pursuits:
BASE Jumping is the most spectacular of the activities in the park, and is only legal in parts of Moab. The high peaks and vistas bring visitors complete with helmets and parachutes ready to face valleys after long climbs. Some jumpers wear wing suits to prolong the fall. Jumping from arches is forbidden, but the areas in Moab where jumping is specifically legal are open season.
Jeep-ATV-Motorcycle Excursion Off-road enthusiasts come for all around the world to experience the majestic red rock terrain via motorized vehicles. Here you will find an impressive trail system that is sure to provide a heart pumping, adrenaline rising adventure that you will not soon forget.
Rockclimbing is the premier activity for many day visitors to the parks, with the varied peaks and terrains offering the most diversity and challenges of any park system in the United States. Beginners are welcome, but the parks' venues for professionals are unequaled.
Hiking is the most popular activity throughout the parks. The desert terrain for poses great challenges, attracting hiking enthusiasts. Forest hiking is also an option near the canyons.
Mountain Biking is encouraged and enjoyed throughout all of the parks, with special trails for that specific purpose criss-crossing the terrain.
Canoeing is another activity that's popular throughout the parks, especially along the Green River.
Astronomy is especially popular in Arches. Stargazers from all over the world come to chart the crystalline night skies.
I hope that this information has been useful. If it has please hit the Facebook like button and share it with your friends.