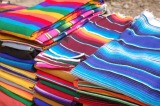 If you've ever daydreamt of the breezes of Cancun, you're not alone. This year-round destination nevertheless has its best time to truly enjoy what this gem on the tip of the Yucatan has to offer. For the more serious-minded traveler, ruins around the city abound, with a major Mayan site nearby. Finally, you should plan to get wet at least once, Cancun is a beachcombers paradise. Located right on the Caribbean Sea, and so especially vulnerable to winds and tides, the best time to visit Cancun, Mexico is the winter and early spring.
Cancun goes through heavy rain seasons, and the months of December through March are the driest season without the undue heat. This time window affords the best time to tour the ruins and just enjoy the beach, all with the least risk of dealing with torrents or even the occasional hurricane.

Among the best things to do in Cancun are exploring the Mayan ruins. Though certainly not among the biggest sites on the Yucatan Peninsula, there are enough archaelogical sites around Cancun to keep any history buff happy for a while. "El Rey" is a series of low Mayan walls and buildings. The larger "El Meco" is closer to the city of Cancun.
Other sites showing off the extent of Maya civilization are Coba, Muyil, Xcaret, Kohunlich, and Kinichna. The one site with a major pyramid temple is Tulum, the only major Mayan site near Cancun.
The blue, limpid waters are the stage for all types of water sports, making the beaches here the envy of the world. For purely tourist fun, boating and jet-skiing is what makes Cancun famous. The opportunities for spending the day on the water, whether enjoying quiet lapping waves on the beach or jetting out over shoals much deeper, are everywhere. When you're in a more contemplative mood, don't miss the underwater art at the National Marine Park.
So there you have it for the least of what awaits in Cancun. Though beautiful and fun all year, make the most of your trip by planning to go squarely in the North American wintertime. The Mayan ruins, especially Tulum, are ideal excursions no matter the time of year. And the beaches, along with fun in the water, are almost a requirement before leaving Cancun. Now, that's the kind of responsibility we all would welcome.