If you are planning a vacation to Yellowstone you should take some time to educate yourself about the Yellowstone weather.
The weather in Yellowstone National Park can be unpredictable. On more than one occurrence I found myself unprepared and ended up sopping wet.
I recall a trip to the famous "Old Faithful" geyser where the weather was fantastic to start our journey, but within a matter of minutes the once sunny skies were transformed into an impressive thunderstorm. It almost seemed as if someone was controlling the skies with an on/off switch. This is how quickly the weather in Yellowstone National Park can change.
So when packing for your trip I recommend that you pack an umbrella along with a sweater or light jacket. You might get lucky and not need the added accessories. However, in the event that you get caught in one of these magnificent "thunderstorms" you are going to be glad you packed them. I happen to really enjoy a brief thunderstorm every once in a while. The sites, sounds, and smells that come with a good thunderstorm are hard to beat.
A thunderstorm deep in the heart of Yellowstone really adds to the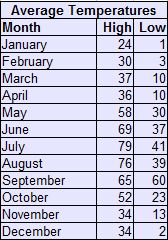 overall experience. The good news is that the storms tend to go away as quickly as they came in during the summer. If you don't like the weather on the day that you visit the park, wait a while and there's a good chance that it will change. The bottom line is that the weather in Yellowstone can be, as I have mentioned unpredictable. The Yellowstone weather has even produced snow in the middle of July so make sure to pack a sweater of light jacket just in case. During the summer months in the park it will for the most part be hot. You should be fine wearing shorts and t-shirts during the summer season but it doesn't hurt be prepared for the rare cold snap. Take a look at the chart below and plan what you will bring on your trip base on the average temperatures.
Thanks for visiting www.yourtation.com and a sincerely hope that you'll return again when you are preparing for your next vacation!