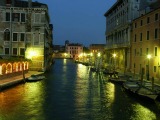 Famously perched on so many waves of hungry lagoon, Venice has a place among the most romantic cities in the world. Over one hundred small islands linked by bridges and canals make up the city's foundations, criss-crossed by veins of waterways, and making a Venice, Italy vacation like no other.
Festivals are the most popular attractions to Venice. During the Easter season the city breaks out in masks for the Carnival of Venice. Most wear their "volto", or common mask of a plain face, but competitions are held for best masks, as the entire city becomes one great masquerade party.

The end of April brings the Biennale, the city's great showcase of Italian art. In July there's the Festa de Redentore, in celebration for the end of plague in 1576, in which exploding fireworks momentarily lights the city's dark canals. Finally, there's the Venice Film Festival, the oldest one in the world, held late August or early September on the island of Lido in Palazzo del Cinema.
Interior design, mostly famed for Roccoco, attracts connoisseurs and students from around the world. Furniture, rooms, chandeliers, the great girandole mirrors, and even draperies and curtains in the official buildings of Venice showcase the city's important contribution to the art world here.
Shop for bags at the flagship stores of Louis Vuitton and Zegna. Though not the fashion capital it once was, Venice is still a force in the status handbag world and a general fashion force to be reckoned with.
Eat. Not surprisingly, seafood features prominently in Venetian fare. The city is famous for marinated eel, bisato, but it's known for sweets like oval cookies, baicoli, and shortbread, bussolai, and even a rich milk pudding called rosada.
Opera lovers should make a pilgrimage to La Fenice, one of the most historic and important music halls of Europe. Venice has always been famous for its music, and its here that the city dominated the European music from the 16th century through the Baroque period. Vivaldi, Ciera, Picchi, Dalla Casa all found their voices here.