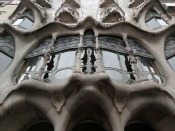 The best time to travel to Barcelona, Spain is when the city is emptiest. If you wish to avoid the crowds, the winter months of December through February are best, and Barcelona's Mediterranean winters are mild.
If you'd rather avoid standing in line for everything and fighting crowds, avoid the summer months, especially August when nearby France empties half the population of Paris into Barcelona.
No matter the season, however, Barcelona has enough attractions to keep you stunned around the year:

SagradaFamilia, the great cathedral by Gaudi and the symbol of Barcelona around the world is alone worth a few days visit. It's a United Nations World Heritage Site, combining Gothic and Art Nouveau to become unforgettable.
Palau de la MusicaCatalana is famed for it's stained glass and is a symbol of the early twentieth century Catalan Rebirth. Since then it's become a icon of Barcelona and thousands attend its music performances.
Gaudi the artist figures throughout the city beyond his cathedral. They are also counted among the United Nations' Heritage Sites: Park Guell, a vast garden; Casa Mila, a building made up of vast waves of stone; Casa Vicens, his first work and a private residence open only to the public on 22 May; and Casa Batllo, a building with a primal, skeletal look.
Museums in Barcelona are both plentiful and number among the world's best. The National Museum of Art of Catalonia is known for its Romanesque collection, while the Barcelona Museum of Contemporary Art house post-World War II pieces. There are important collections in museums dedicated to Miro, Picasso, and Tapies.
Beaches in Barcelona are rated among the most beautiful in the world. There are seven in all, with Barceloneta and SantSebastia the most popular. The bulk of these beaches came about when the city hosted the Olympics in 1992 and demolished buildings for the event. What was left behind were miles of pristine shoreline that the citizens of Barcelona, and the world, have treasured since.
Consider this list a decent starter kit for Barcelona vacation ideas. You'll find that many sites in the city open onto other vistas that lead to pleasant discoveries. Throughout the year in its gardens, its buildings, and it beaches, Barcelona invites exploration.