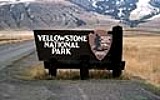 In this post I will provide a list of what I think are the top ten Yellowstone attractions. I will also give you my personal recommendation of some really fun things to do on your vacation. There is simply not another place on earth that is as unique as this national park so I hope you are excited about your trip. Spending a little bit of time to plan out the "must see" attractions at Yellowstone before your vacation can really pay off.
Not only will you see the the best sights and do the best things, your vacation will be hassle free and as relaxing as it should be. Enjoy my post and if you have any questions about what to do or see while you're vacationing in Yellowstone, feel free to shoot me an email!

1. OLD FAITHFUL GEYSER
This geyser is the most recognizable or famous attractions within Yellowstone National Park. It is without a doubt the world's most photographed geyser. It is rightly name as time between eruptions can be estimated within a ten minute range. The eruptions occur on a consistent basis between ninety minutes to two hours. Eruption heights can reach 180 feet.
2. OLD FAITHFUL INN
Designed by Robert Reamer, Old Faithful Inn is the standard in which all of Yellowstone's architecture is compared to. It was constructed from 1903-1904 with the employment of 1,500 craftsmen. The lobby raises six stories high to the roof of the inn. The interior of the building is truly a site to be seen.
The rustic look and feel created by the curvature of log-pole pines is a masterpiece in and of itself. This inn is certainly an extension of its environment. If you are waiting around for Old Faithful to erupt, stop in and explore this magnificent building.
3. MAMMOTH HOT SPRINGS
When discussing family vacation ideas for Yellowstone, Mammoth Hot Springs certainly makes the list.The mammoth area is most notably recognized by tourist for herds of elk, terraces and history. In the early 1880's the US Cavalry planted grass here at Fort Yellowstone. The elk seem to enjoy this grass more than the grass found on the open range. Elk can be found here all year long but they are most prevalent in the fall as this is mating season.
In this area you will also be able to see amazing geological formations created by a chemical reaction of limestone. Some have said that this area of Yellowstone National Park is geology in hyperdrive! Terraces can grow as much as two feet in a year from an active spring.
4. NORRIS GEYSER BASIN
When considering the best things to see in Yellowstone you should stop at Norris Geyser Basin. It is home to the world's tallest geyser the "Steamboat Geyser" with eruption heights of almost 400 feet. This is three times higher than Old Faithful. This geyser is a little less predictable as intervals between eruptions can range from four days to 50 years.
This area is recognized as the oldest and hottest part of the park. It is also famous for colorful bright green and orange hot springs. The display of colors is the result of a type of bacteria that thrive in hot water climates known as thermophiles.
5. GRAND PRISMATIC SPRING
This spring is the largest spring in the park. It is 370 feet in diameter over 121 feet deep. This is actually the third largest hot spring in the world. The spring is filled with vibrant colors of blue, green, yellow and orange.
As previously mentioned the colors are indicative of microorganisms called thermophiles that seem to flourish in extreme temperatures. I definitely recommend that you stop and see this brilliant display of nature. The spring is really easy to get to as it is on the way to Old Faithful, that is if you entered from the west gate of the park.
6. WEST THUMB GEYSER BASIN
The hot springs in this area are to say the least picturesque. The combination of hot springs and geyser with the backdrop of Lake Yellowstone is a photographer's dreams come true. If I was writing this post ten years ago I would make sure to tell you to bring lots of film. One popular attraction here is Fishing Cone. Legend has it that fishermen would catch a fish, and then dip their catch in this boiling hot cone. The fish were cooked right on the fishing line.
7. GRAND CANYON OF YELLOWSTONE
Some would argue that this area is the most stunning 20 miles in Yellowstone and should be at the top of anyone's family vacation ideas list. The canyon is filled with breathtaking waterfalls and steep drop-offs. The park is home to some 300 waterfalls with the most notable being the upper and lower falls found in this canyon. The rolling crashing water of the upper falls drops a total of 109 feet.
8. LAMAR VALLEY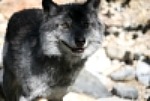 Do you want to see a wolf? Well your best chance is in Lamar valley. This valley was the restoration site for the Gray Wolf in 1985. You might be surprise to know that as of 2008 there are 51 wolf packs that inhabit the Yellowstone National Park ecosystem.
Just a tip early morning is always a great time to see wildlife. Some have said that this area is the "American Serengeti". The area is home to some of the more popular animals in the park being grizzly bears, bison, elk and of course wolves.
9. ROOSEVELT JUNCTION
This is only a four mile stretch of road. Here you can find a petrified tree that is worth the stop. There is also a towering waterfall and some very unusual geology. Mount Washburn is one of the best places to see bighorn sheep. Some visitors try to feed the sheep and not only put themselves at risk but it can compromise the health of these animals.
10. HAYDEN VALLEY
If I were to use one word to describe this area it would be bison. You have heard the saying "Where the Buffalo Roam" that would be right here in Hayden Valley.
Did you know that this is the only area where bison have survived continuously, that is at least within the lower 48 states? Be careful when taking pictures as bison have injured more visitors in the park than any other animal, even more than the almighty grizzly.
MY FAVORITE BOOK ABOUT YELLOWSTONE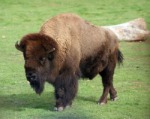 I now have a question for you, do you find that the more information you have about your vacation the better?
If so there are many books that you can read before going on your trip. However, the book that I have found to be the most informative and does not put you to sleep is called the "Yellowstone Expedition Guide". This book is fantastic! It is full of fun, cool and interesting facts.
It comes with an audio CD that you can listen to in your car while driving through the park. You will also get with your purchase, a DVD-ROM for your computer, which will take you on a virtual tour of Yellowstone right from the comfort of your home. If you want to get the most out of your vacation I am sure you can see how the information from this amazing book will take your experience to a whole new level.
Now that you have a list of the top ten Yellowstone National Park attractions I want to offer some suggestions for some really fun things to do in Yellowstone. I recorded a short podcast for you to listen to so make sure and give it a listen before you take off on your vacation. You will find a player for the podcast at the end of this post.
BEST YELLOWSTONE ACTIVITIES FOR FAMILIES
1. HORSE BACK RIDING
My first recommendation is for you to consider a day or half-day horse back riding excursion. Experiencing the area on a horse will take your experience to a whole new level. You will really feel like you have gone back in time to the Wild Wild West!
I Just took my daughter on a hores back ride for her birthday and it was tons of fun. If you are new to riding I suggest that you only go out for a short ride no more than two hours. That might not seem very long but trust me your butt will be saying otherwise.
2. RIVER RAFTING
Looking for a slow and easy rafting excursion, I recommend the float at Macks Inn in Island Park. The river is slow, relaxing, and the scenery is absolutely breathtaking. This is an activity that grandma and grandpa could experience with the family without the worry of a cardiac arrest. If you are looking to get your heart pounding then there are several rafting outfitters in the area that can help you with this.
3. FLY FISHING
The beauty that surrounds you in this national park is nothing short of breathtaking. We all have moments in our life, memories that stay with us forever. I can still remember the first fishing trip that my dad took me on. I am 38 now and I can remember that day like it was yesterday.
If you have young children and you are in the family vacation planning process I recommend that you take them fishing. This is definitely a worthwhile Yellowstone activity. You can fish in the park or outside in nearby cities. Island Park Idaho has some great fishing and it is only twenty minutes from the west gate of the park.
4. YELLOWSTONE BEAR WORLD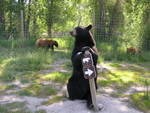 If you have the time and you are traveling through Rexburg Idaho on your way to the park then I recommend that you stop in at Yellowstone Bear World. Have you been on a whale watching expedition and traveled for several hours on a boat without any whale sightings? It's really disappointing right? Well the same thing can happen when looking for wildlife. A bear sighting in Yellowstone National Park is actually rare.
Yellowstone bear world is the perfect activity for young and old alike. Here you will have the opportunity to drive your car through a designated area and view the wildlife up close and personal from the comfort of your car. You can even take the opportunity to bottle feed the bear cubs. This is really fun and I promise you that it is an experience that your young children will not forget.
5. PLAYMILL THEATHER WEST YELLOWSTONE
One of my favorite activities is to visit the Playmill Theater. You might be surprised to know that this playmill theater has been putting on shows for the past 47 years.
Their first performance was in 1964 where they performed "See How They Run Harvey" and "The Doctor in Spite of Himself" The theater has performed some very recognizable plays such as Oklahoma, Guys and Dolls, Disney's Beauty in the Beast, Joseph and the Amazing Technicolor Dreamcoat and Fiddler on the Roof just to name a few.
So I realize that you might be a little apprehensive and wonder what type of experience you will have at the theater. I fell very comfortable in telling you that you will have a great time. The performances are excellent!
The actors are well trained and do a fantastic job with each and every performance. You can always count on a great performance and it is a really fun evening activity for the whole family. If you are looking to be entertained then make sure you visit the theater while on your vacation.
The ticket prices are very reasonable at $17.50 for Adults and $15.75 for children (ages three to eleven). If grandma and grandpa are with you they offer a senior discount for those 65 and older. The rate for seniors is $15.75. For tickets to the Playmill Theater West Yellowstone call (406) 646-7757. The theater is located on 29 Madison Ave in West Yellowstone.
6. MOUNTAIN BIKING/HIKING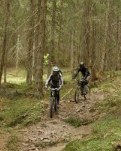 If you love the outdoors like I do then you probably like to hike and bike. I don't think that I need to spend much time selling you on why Yellowstone National Park would be a great place to participate in these activities.
There are numerous beautiful trails for you to enjoy. For the cycling enthusiasts, every fall when the park closes to motor vehicles there is a really fun ride. The ride goes from West Yellowstone to Old Faithful. I have not actually done this ride but I have listened to many people tell me that it was a great experience.
7. VISIT MESA FALLS JUST OUTSIDE THE PARK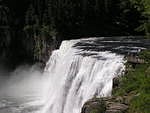 Mesea Falls is one of the best kept secrets of the area. I don't think that anyone intends this majestic area to be hidden from the world, but the fact is most people will never visit Mesa Falls.My wife has been going to this area all of her life and did not know about Mesa Falls until recently.
No matter how many times we go to Yellowstone visiting the falls is one of our favorite things to do. There are two falls for you to experience. There is an upper falls and a lower falls both of which are located in the Targhee National Forest . If you have the time I recommend that you see them.
This is a great place to stop and have a picnic. Picnic tables and bathrooms are on the property. They are really easy to get to and you won't be disappointed. The best time to see the falls is in the spring or early to mid summer. The reason for this is because of the melting of the winter snow. The water levels are at their highest during this time and the falls are absolutely breathtaking. There are many birds of prey that live in this area so keep a watchful eye and you might see a peregrine falcon or bald eagle.
There is a visitor center lodge at Mesa Falls that is worth exploring. They have a room in the lodge where you are allowed to touch and feel many different types of animal skins and fur. While the adults enjoy this room if you have children they will really have fun. It is a great educational experience. The staff working in the lodge has always been very friendly.
Mesa Falls are located 48 miles from West Yellowstone. Many of you will pass them on your way to Yellowstone if you are coming by way of Rexburg. They are off of HWY 20 going south towards Rexburg or heading north towards West Yellowstone . There are signs on the side of the road that say Mesa Falls directing you when to get off of the HWY. The signs are not very big however so make sure you have a map and be alert. They charge five dollars for entrance per vehicle so you will want a little cash.
6. RIDE ATV's
One of my favorite things to do in the Yellowstone area is to ride ATV's. You obviously cannot ride a four wheeler in a national park. However, riding in the surrounding area is Amazing! If you like this kind of activity you should defiantly make arrangements to get out on the trails.
I take my family out several times a year to ride four wheelers in a city called Island Park Idaho. It is really close to the west gate of Yellowstone, only about twenty minuets. If fact there is ATV trails here that will take you right into West Yellowstone. This is a really fun experience as you can stop in town get lunch and on the really hot days a cool drink or ice cream really is refreshing.
The ATV trails in Island Park are breathtaking. The terrain that you are riding in is very similar to the terrain in the park. You are bound to see wildlife in the area. We have seen elk, moose, and deer on many occasions. I have family who actually came across a black bear and a couple of cubs while on the trails. Be careful please! You don't want to stumble upon a mother bear with her cubs and hangout.
One of my favorite trails in Island Park follows the path of an old railroad track. They have since taken out the railroad tracks so the riding is great. What I like about this trial is you have about a ten foot trail space cut right through a very densely populate area of pine trees. It's really cool to be riding in the rugged wilderness with walls of pine trees on both sides of you.

Insiders Secret:

Make sure when you are renting the ATV's to ask for a map of the area and have them show you where some of the best trails are. There are so many trails that there is no way for you to even come close to seeing all of the area.

Also, ask them to tell you what roads you are not allowed to ride on. They are not shy about giving tickets in this area and I would hate for you to have your experience ruined with a citation. Have fun and be safe!
If you have never been to the area it is hard to know what are the best things to do in Yellowstone National Park. I hope that this post will help you in planning your vacation. Have fun and I hope you enjoy this area as much as I do.
I have recorded a radio show on the topic of fun things to do in Yellowstone. You won't want to miss this if you are going to the park on vacation. Take a listen! To make things easy for you, I've included the a player so you can listen to it directly on my website.
For your convenience I have included links to several companies that can help you set up an amazing vacation.
Diamond P Ranch
Eagle Ridge Ranch
Meadow Vue Ranch
Dry Ridge Ranch
Island Park Adventures
Macks Inn Resort
Mountain Mayhem
Yellowstone Arctic Yamaha
Yellowstone Vacations
Henry's Fork Anglers
Orvis Three Rivers
Trouthunter
Resources:
1. Yellowstone Expedition Guide by TravelBrains (http://www.travelbrains.com)